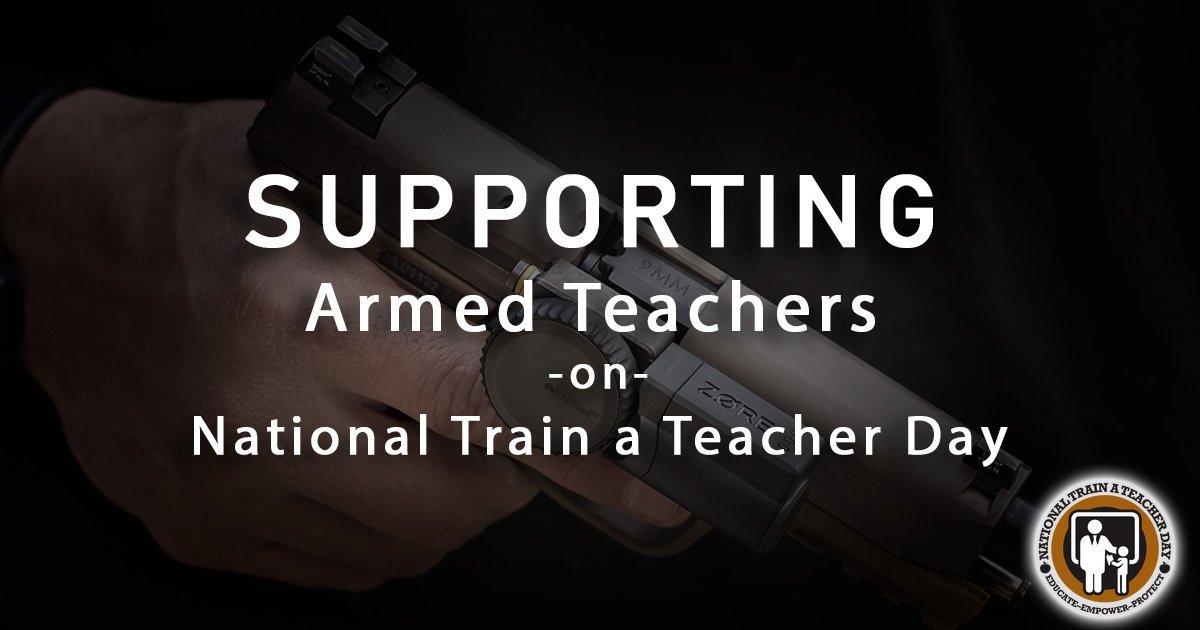 National Train a Teacher Day
This is a 16 hour 3 day concealed carry license class for active Teachers, Administrators and Staff of public or private schools. The Class is FREE but the range is not.
Gun Rental, Range Fee, Fingerprints and the Illinois State Police license fees are not included.
No FOID card or firearm is required. The range qualification will be held on the following Sunday, June 26th from 4:00 P.M. to 8:00 P.M. at Sporting Arms located at 14216 South Western, Posen, Illinois.
Registration starts at 8:45 A.M ,bring your Illinois ID's and active teaching credentials for entry.
Class size will be limited. Onsite fingerprint services available.For more information call 708) 926-2524.
Registration: 9:00 A.M.
Module #1 Saturday's 9:30 A.M. to 2:00 P.M.
Module #2 Saturday's 2:30 P.M. to 6:00 P.M.
Registration: 9:00 A.M.
Module #3 Sunday's 9:30 A.M. to 2:00 P.M.
Module #4 Sunday's 2:30 P.M. to 6:00 P.M.
You Must Attend Both Consecutive Days
Once more we find ourselves watching the tragic aftermath of another mass murder event. Innocent children and teachers once more victimized by the evil actions of a heartless criminal predator. As grief-stricken families deal with loss, some elected officials, and media pundits scramble to weaponize tragedy to push a political agenda and call out for others to "do something".
National Train A Teacher Day volunteers, professional firearm and safety trainers, ARE "doing something" … EDUCATING and EMPOWERING our fellow citizens. This is a positive, tangible, real, proactive, and useful solution that EXERCISES our rights NOT limits them.
National Train A Teacher Day is a means to empower those who are entrusted with the care and education of our children and gives them the insight, knowledge, and skills to act instead of react, so that they can save lives.
National Train A Teacher Day is a grass roots movement that began shortly after the Parkland tragedy. Instructors from across the country have banded together to offer free training to those who are charged with the safety and education of our children. 2022 marks the 5th year that we will be offering a variety of training opportunities to teachers, school staff, administrators, and those who work with youth in a leadership capacity (coaches, teachers assistants, clergy, Sunday school teachers, Rabbis, daycare staff, scout leaders etc.)
This year National Train A Teacher Day will be observed on June 18th, 2022.
Protecting children is the ultimate goal. Educating and empowering teachers, staff, admin, and youth leaders will help with that objective and perhaps create informed advocates that can influence legislators and school boards to change policies and laws that will allocate resources to implement deterrents, and lift restrictions on law-abiding Americans. The protection and security of our children is NOT a "gun" debate. National Train A Teacher Day is a means to actual solutions that will protect children and stop this type of evil from happening in our schools.
We advocate education, hardening school buildings, abolishing Gun Free Zones and allowing teachers, staff, admin, and youth leaders to have the ability, to take on the responsibility to arm themselves with education or tools of defense. We believe ALL Americans, no matter their vocation, should be able to protect themselves and others.
Training opportunities may cover a host of areas from threat deterrence, first aid, Stop the Bleed, crime prevention, firearm safety, concealed carry, unarmed defense, Taser, pepper spray, purpose-built school defense, run-hide-fight, and defensive tactics.
We encourage teachers, school staff, administrators, and youth leaders to look at what's available in their area and take advantage of these FREE educational opportunities.
For more information and to connect with a trainer, or to volunteer, visit the National Train A Teacher Day website at www.nationaltrainateacherday.com.
Let us ALL work together to educate, empower, and protect.
May God be with the souls of the victims, the families, the survivors, and our Country.